The Israeli Andalusian orchestras are an absolutely fascinating phenomenon. There are two big orchestras with a large subscription audiences and a few smaller ones.
These orchestras mostly preforms North African music, and their main audience is the large community of Jews who immigrated to Israel during the 50's-60's from the North African Arab countries like Morocco, Algiers and Tunisia.
I had the honor to be featured as a soloist in an eight-concert series with Tom Cohen's "Mediterranee" Orchestra last month, probably the first Arabic music orchestra to feature the double bass as a soloist (If you have my CD you know this one, but that was a little smaller ensemble).
The orchestra members divide into two groups of players: the "Classicals" – classically trained musicians who's first encounter with this music was in their work with this orchestra, and the "Authentics" – 'Eastern' musicians who have been raised on this music and who's first encounter with written music or a conductor was in their work with this orchestra.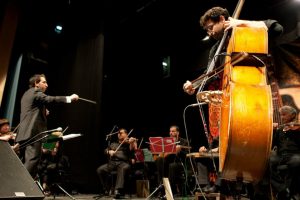 In both of the big orchestras I have mentioned there are about half "classicals" and half "Authentics". The way those two groups interact musically depends so much on the work of the conductor and I think I know about at least two serious dissertations about this exact subject being written as we speak.
It is absolutely enlightening to see what conductor Tom Cohen is doing with his orchestra. Tom manages to combine East and West in the most natural, fresh way, and always finds new things to bring to his audience and ways to bring out the best in his musicians (The best example would be Tom's arrangement of a famous Moroccan folk song combined with a famous flamenco song here).
The video on top is Tom and the orchestra in my arrangement of a cha'abi (the urban folkloric morrocan style) song named "Adibat Kalbi".