The traditional Arabic music of our day has definitely evolved partly under the influence of the inevitable contact with western music, especially in the last one-hundred and fifty years.
Almost all researchers of Arabic music note the first performance of Verdi's Aida in the Cairo Opera House on December 24, 1871 as a key event in this contact.
What those researchers do not always mention is that this premier performance was conducted by Giovanni Bottesini. Bottesini was appointed as the musical director of the Italian Opera at the Kadivale Theatre in Cairo at 1870, and in these performances continued his custom of performing Bass solos between acts.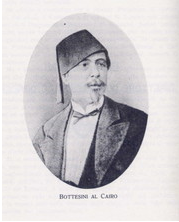 I found this picture in Professor Vito D. Liuzzi's interesting and informative website, and it is taken from the book Giovanni Bottesini by Gaspare Nello Vetro.
It is interesting to think what Bottesini thought of the local music, and whether he imagined the immersion of the double-bass in it, or even experienced it himself.
In any case, it is nice to know that a man with such a huge influence on the evolution of music for our instrument also influenced the evolution of Arabic music.
Read more about how Bottesini's years in Egypt influenced his career, and more about his life in Thomas Martin's comprehensive article "In Search of Bottesini".